I have been trying to make a decent crab cake for MONTHS now. I have used top of the line crab, followed excellent recipes and still ended up with fishy smelling hockey pucks. I had just about given up when I came across this recipe in The Good Housekeeping Cookbook (which by the way is a fabulous cookbook. the recipes are mostly easy, and it has a lot of background info on dishes and ingredients that make it fun to read even if you're not planning on cooking. wait, did that sound ultra nerdy? probably!). Anyway, In this recipe I cut it in half, and actually used regular old canned crab that you can get where you find canned tuna fish at the supermarket. And it came out delicious, moist, tasty and most of all: Non Puck Like.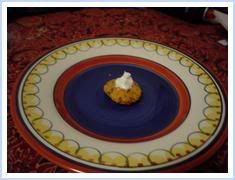 Mini Crab Cakes
1/4 cup mayonaise
1 tbsp sour cream
2 teaspoons Dijon mustard
1/2 teaspoon finely grated lemon peel
1/4 teaspoon salt
1/8 teaspoon ground red pepper
1 pound lump crab meat
1 cup fresh bread crumbs (2 slices of bread)
Preheat oven to 400. Lightly grease large cookie sheet. Prepare Lemon Sauce*, cover and refridgerate.
In medium bowl, stir mayo, sour cream, mustard, lemon peel, salt and red pepper until blended. Str in crabmeat and bread crumbs until just mixed.
Drop level tablespoons of the crab mixture onto prepared cookie sheet. Bake until golden brown, 16-18 minutes. op ewach crab cake with 1/2 teaspoon lemon sauce. Serve hot. Makes 30 mini crab cakes.
*
Lemon Sauce
In small bowl, stir together 1/2 cup sour cream, 1 teashpoon freshly grated lemon peel, pink salt and pinch red pepper until blended.