This past Saturday night Adam and I were invited to a dinner party at the lovely
Cappella's
house. We volunteered to bring dessert, since I had been dying to make a fruit tart lately and was just looking for a reason to do it (I am always hesitant to make a large dessert just for Adam and I because either 1) we eat a serving each and then it goes bad or 2) we eat the whole thing and feel like les cochons.) So here was my chance.
After pouring over tart recipes for a while, and realizing I did not want to mess with having to make creme anglais or complicated crust.. I decided on a simple Paula Deen Recipe I found on foodtv.com (and on several other cooking blogs since this is such a great dessert).
So, without further ado:
Easy Fresh Fruit Tart
Crust:
1/2 cup confectioners' sugar
1 1/2 cups all purpose flour
1 1/2 sticks butter, softened and sliced

Filling
1 (8 oz) package of cream cheese, softened
1/2 cup granulated sugar
1 teaspoon vanilla extract

Topping
Fresh strawberries, kiwi slices, blueberries and raspberries

Glaze
1 (6 oz) can of frozen limeade concentrate, thawed
1 tablespoon cornstarch
1/2 cup granulated sugar

Preheat oven to 350 degrees F

For the crust: In a food processor combine the confectioners' sugar, flour and butter and process until the mixture forms a ball. With your fingers, press the dough into a 12 inch tart pan with a removable bottom, taking care to push the crust into the indentations on the sides. Pat until even. Bake for 12-15 minutes until very lightly browned. Set aside to cool

For the filling: Beat the cream cheese, sugar and vanilla until smooth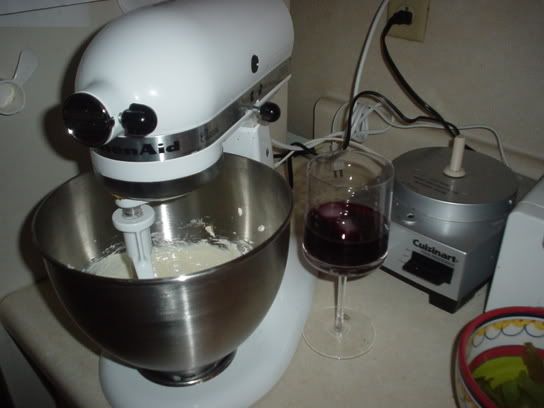 I think at this point, pouring yourself a glass of wine is helpful to the baking process. You dont have to be as gauche as me and put ice cubes in your pinot noir, any old wine would do.
While you're waiting for the crust to cook, chop up whatever fruit you are using. I used strawberries, kiwi and some blueberries, since the raspberries at Shaws were looking a little peaked. Cut the strawberries into 1/4s and peel & slice the kiwis
After the crust has completely cooled, pop it out from the pan (still on it's metal plate) and spread the cream cheese mixture over it .
Adn then make a pattern with the fruit on top. I am a fan of the cocentric circle kind of design.
For the glaze: combine the limeade, cornstarch and sugar in a saucepan and cook over medium heat until clear and thick..about 4-5 minuites. Let cool, and with a pastry brush glaze the entire tart. You will not use all of the glaze.
Voila!
Keep the tart in the refrigerator. Remove about 15 minutes before serving and slice into 8 wedges. Garnish with whipped cream if desired.