One of the biggest problems I run into when cooking dinner is that most recipes are designed to feed a family of four, and I am just trying to feed Adam and myself. And while we both enjoy leftovers..most recipes leave us with so many leftovers that we end up throwing some of it out because it got old before we could get to it. So I like to experiment with changing proportions and ingredients sizes to get meals down to a more comsumable size. I tried this last night with a No Boil Lasagna recipe I got off the back of a Prince Lasagna Noodle package and it came out quite good. I happen to like a cheesy lasagna but if you want more meat you can always so 1 lb and a half of meat instead of just 1 lb and then only use 3/4 the cheese mixture.
No Boil Lasagna (for Two)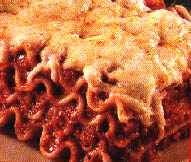 (1/2)1 lb package Curly Lasagna
(1) 26 oz jar tomato sauce (recommended: Barilla Italian Baking Sauce)
(2) Cups shredded mozzarella
(1) 15 oz container Ricotta Cheese
(1/2) Cup shredded Parmesan Cheese
(1) Lb Italian Sausage (crumbled, cooked and drained)
(2) Eggs
Break the ends off of the uncooked lasagna so it fits into a 9X9 (or similarly sized) baking dish.
Beat together Ricotta, Parmesan and Eggs. Set Aside.
Pour enough sauce into the pan to cover the bottom and place a layer of overlapping lasagna noodles over it.
Layer 1/2 of Ricotta mixture, followed by 1/2 of Sausage,1/2 of the sauce you have left and 1/2 the mozzarella.
Add another layer of lasagna and repeat.
Cover pan tightly with aluminum foil and bake at 350 for one hour. After an hour, remove the aluminum foil and bake again for 10 minutes or until bubbly.
Let sit for 10 minutes before serving.