On Friday night, our friends
The Cappellas
invited us over for margaritas. Not wanting to show up empty handed, I immediately thought of the fabulous fruit dip that
Alisa
had just posted on her blog, and decided to make some to serve with strawberries It was a big hit!! Utterly simple to make, and low-calorie to boot.
Fabulous Fruit Dip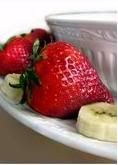 1 7 oz jar of marshmallow creme (aka Fluff)
1/4 cup non fat sour cream
1/4 cup peach preserves
1/4 cup brickle or tofee bits (I left this out since Jeanne is allergic to nuts)
Mix all ingredients well and refrigerate for two hours. Serve with whole strawberries.