At home we have this marvelously kitchy 70s cookbook called Betty Crocker's Dinner for Two Cookbook. Adam's mom gave it to him years ago and it is a throwback to the days when the woman was expected to work all day and come home, throw some lipstick on and cook a fabulous three course meal.
just take a look at the first page:
it's pretty hilarious! i usually leaf through it just for sheer entertainment value.
but, being a "business girl" i did take to heart some of the quick, easy recipes. including this one for "
Drop Biscuits
" that come out great especially if you brush them with garlic butter.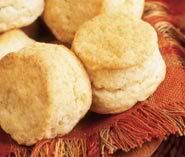 1 cup flour
1 1/2 tsp baking powder
1/2 tsp salt
3 tbsp shortening
1/3 c milk
preheat oven to 425
combine all dry ingredients. add shortening using pastry blender or fingers until it resembles "meal". slowly pour in milk and mix until smooth dough is formed.
knead and rol/pressl dough out onto cutting board (hint: spray with cooking spray so it doesn't stick) and use a small drinking glass to cut out your biscuits.
bake for 10-15 minutes on an ungreased baking sheet. keep your eye on them at 10, and take them our when they are slightly brown around the edges.
i like to brush them with garlic butter before i serve them, which you can make by melting 3 tbsp butter, adding in 1 clove minced garlic, 1 tbsp parmesan and 1 tsp parsley.