there are a few scents that always remind me of fall: roasting pumpkin seeds, freshly baked apple pie, newly raked leaves, and these amaaaaaazing cookies. i got the recipe from the New
Good Housekeeping Cookbook
which my mom gave me when I moved into my new place (along with a well-intentioned copy of "
Cooking for Dummies
"!). They are really easy to make, and you probably have most, if not all of the ingredients in your kitchen right now.
Two pieces of advice: even though it says the pepper is optional you should definitely use it. it adds a spicy quality that really meshes well with the ginger. and i like to sprinkle a little extra sugar on the dough balls after i put them on the baking sheet, before they go into the oven, to give them an extra sparkly, crackly appearance.
JUMBO GINGERSNAPS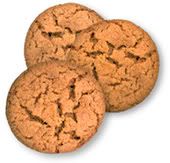 2 cups all-purpose flour
2 teaspoons ground ginger
1 teaspoon baking soda
1/2 teaspoon ground cinnamon
1/2 teaspoon salt
1/4 teaspoon ground black pepper (optional) (use it)
3/4 cup vegetable shortening
1/2 cup sugar
1 large egg
1/2 cup dark molasses
2 tablespoons sugar
Preheat oven to 350 degrees.
In medium bowl, combine flour, ginger, baking soda, cinnamon, salt, and pepper (if using (USE)).
In large bowl, with mixer at medium speed, beat shortening and 1/2 cup sugar until light and fluffy.
Beat in egg until blended; beat in molasses.
Reduce speed to low; beat in flour mixture just until blended.
Place remaining 2 tablespoons sugar on waxed paper.
Roll 1/4 cup dough into ball; roll in sugar to coat evenly.
Repeat for 10 balls.
Place balls 3 inches apart on ungreased cookie sheet.
(If you want smaller cookies, roll dough by slightly rounded tablespoons and place 2 inches apart on two ungreased cookie sheets).
Bake until set, about 15 minutes for large cookies, or 9 to 11 minutes for smaller cookies.
Cookies will be very soft and may appear moist in cracks.
Cool 1 minute on cookie sheets on wire racks.
Transfer to wire racks to cool completely.